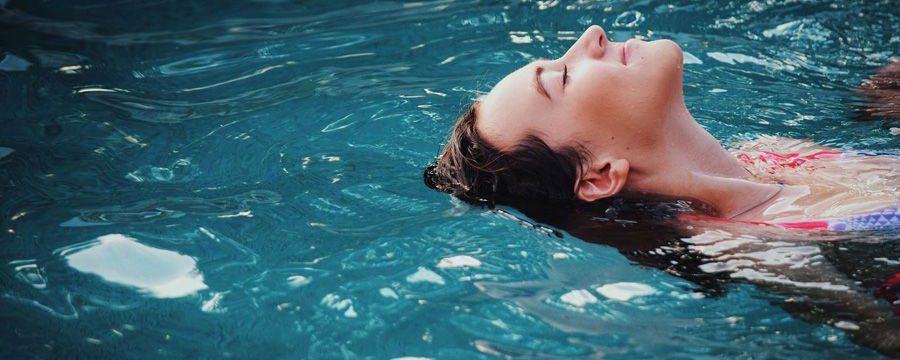 Spring and Summer are peak times for salon-goers to get highlights.
It is also when our guests are more likely to go places where they will encounter salt water and chlorinated water on Spring Break or Summer vacation.
A guest of Julia Grace Salon asked us if it was OK to swim in pools after getting highlights.
What's so bad about chlorine pools?
The chemicals tend to do damage to your hair and skin.
Chlorine is a bleaching agent, so a lot of exposure to it may strip your hair of its color. The large amount of copper in pool water seeps into hair and, with the help of chlorine, oxidizes and turns hair green. The chemicals in pools will also dry out your hair and skin with prolonged use.
Everyone knows a diet high in salt is a bad thing, but is it that bad for your skin and hair? Too much of it is. Salt in salt water will rough up your hair's cuticle making it more porous and just dry out your hair.
So, what can you do to protect your hair while swimming?
Dry hair acts as a sponge and will soak up any minerals in the pool. Lighter hair is more porous and that increases the chance of soaking in chemicals, too. Wet your hair first and apply conditioner to create a barrier between your hair and the water. Pureology's Colour Fanatic spray works well, too to keep those strands healthy. Wearing a swim cap will also protect your hair from the water. Shampooing after you get out of the pool will help reduce the effects of chlorine on hair.
For someone who is in and out of the pool a lot, a weekly clarifying shampoo will help enormously. Pureology's Purify shampoo and Keune's Sun Sublime shampoo are our go-tos for ridding hair of chlorine.
These shampoos will also help if you have hard water or other impurities in your tap water. If your hair feels extra dry, try pairing a deep conditioner with your once-a-week clarifier.